Yesterday Stripe a global payment provider announced that it will support cryptocurrencies in their platform. In the announcement they said they'll integrate their systems with wallet providers, exchanges and NFT market places. This will help them offer their clients Crypto-to-Fiat currency payments.
On his recent tweet John Collison, co-founder of stripe said that the company now supports crypto business. He emphasized that they not only provide pay ins but also payouts. He also assured security of this system by KYC and identity verification which helps prevent fraud.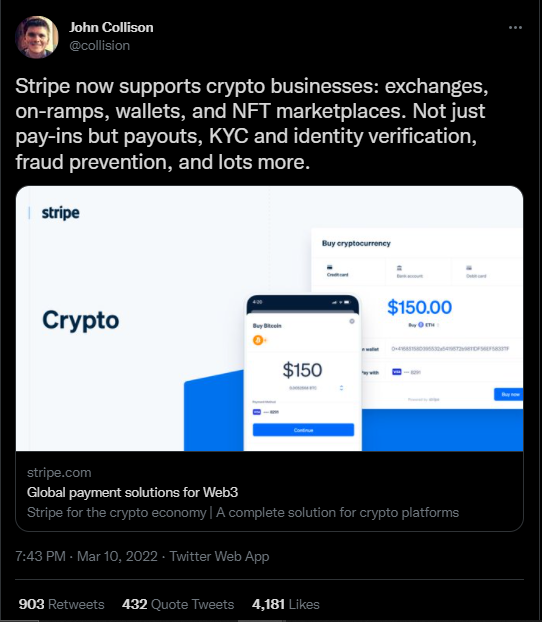 Stripe also announced that it is supporting FTX which is a leading crypto exchange which offers services like derivatives and option trading. Stripe had earlier supported Bitcoin but ended its support in 2018 saying Bitcoin had become better suited as an asset rather than a means of exchange. As they promised in 2018 when ending support that they would pay close attention to the ecosystem, they have finally fulfilled the promise.
This is a great milestone for the crypto market considering how other payment providers view cryptocurrencies as their direct competitors therefore not supporting them at all.